For people who want to pay off their loan fast and invest in life, not debt.
Banks, profits and principal & interest styled loans
A typical principal & interest loan:
Loan amount: $300,000.00,
Term: 30 years,
Comparison rate: 6%,
Monthly Payment: $1,798.65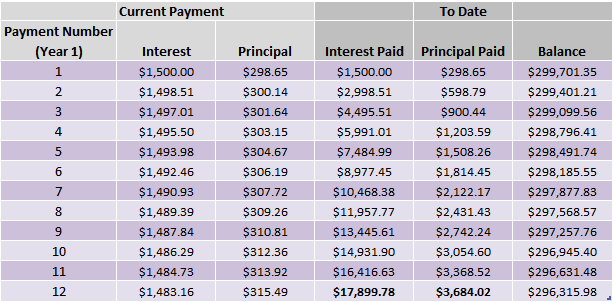 This Principal & Interest Repayment Chart – sourced from infochoice.com.au – shows that after 12 months you would have paid back to the bank $17,899,78, and yet all you were able to reduce the loan by was $3,684.02. A whopping bank revenue of $17,899.78 in 12 months!

The Money Builder Loan comes with your own loan manager, at a variable rate with no extra fees or charges.
How it works is that you work out how much cash you need to have each week to spend, and the rest of your wages/income goes to your loan account. When you receive a bill, such as electricity rates, etc. you call or email your loan manager and they will transfer the amount to your account. The more you have in your account and the longer you have it in there, the more you save.
This keeps you in control; you know how much you have to spend and you save having the additional funds against your loan for the longest possible time.
Your loan manager keeps in constant contact letting you know how much you are in front, sending you detailed reports and graphs. This keeps you motivated and your confidence builds as your loan decreases and your investments build.
How safe is it? 100% secured by NAB, as well as funds can only be transferred into your nominated account. You can take over from your personal loan manager at any time and you can obtain additional funds.
This loan is a gift, a gift for people who want to build their wealth and payoff their loan quicker. It is like having a personal trainer. Some people can get up at 6am and jog every day. Others want to but somehow it just does not happen. However, they get a personal trainer who come knocking and calling at 6am, and get you going – no more excuses and your feeling great, your confidence is building and you're loving it. This is the same as the Money Builder Loan.
The Most Dynamic Part
This is the hardest part, but the most dynamic: the spending plan. Most people do not want to look at their finances; however this is where you really start to save and build your debt into investment and freedom.
Picture this: your house is paid off and you can then invest in property, managed funds, etc. You can cut down your work from full time to part time or give up completely and do what you have always dreamed of doing – without high risk and with the same income as if you were working full time. You can make this happen. InShape Home Loans will help you work out your finance plan and obtain your Money Builder Loan.
Money Builder will assign you with your own Personal Loan Manager, and it begins – your road to financial freedom.
View example sheet (pdf, 514kb).